Contractor Insurance in PA: What You Need to Know
Depending on the type of work, general contractors are required to acquire specific types of business insurance. If your business is a contracting company, you need to avail of contractor insurance services in the PA area and if your business owns a vehicle, you need to avail commercial auto insurance to comply with the state requirements.
If your business has a physical location where you pay for the commercial lease, you may be required to acquire general liability coverage. Contractors in Pennsylvania commonly own it as this type of business insurance can protect the business from the liability associated with common risks such as property damage and trauma.
Another general contractor insurance in PA that every small business should provide is workers' compensation insurance. This type of business insurance covers lost wages and medical bills for work-related injuries.
Depending on your clients or the type of work that you have, you may need contractors insurance or surety bonds.
Here's everything you need to know about contractor insurance in PA.
How Much Does Insurance Cost for PA Contractors?
The costs of contractors insurance coverage will depend on your policy limits, business risks, the value of the equipment your business uses, and other related factors. Coverage cost estimates are based on policies purchased by most companies.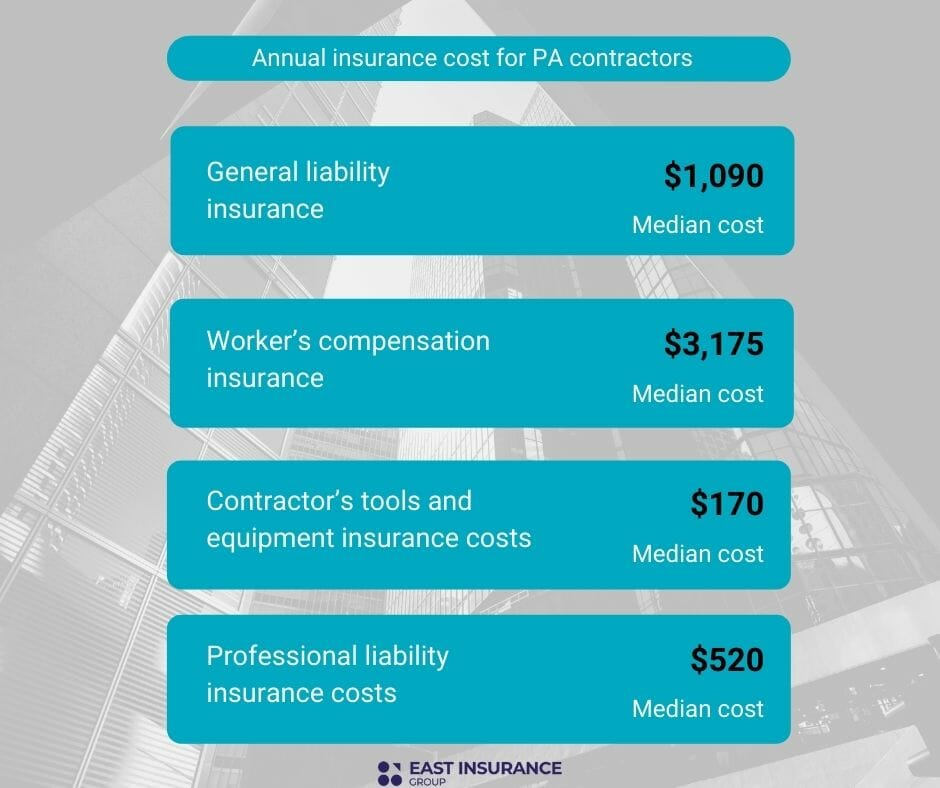 General Liability Insurance Costs for General Contractors
A general contractor pays a median premium of $90 per month or $1,090 annually for general liability insurance. This policy coverage protects your business against third-party injuries, property damage, and advertising damages. General contractors are able to save money by acquiring general liability insurance with commercial property insurance.
The median cost per year: $1,090
Policy limit: $1 million per occurrence
Policy deductible: $500
Workers' Compensation Insurance Costs for General Contractors
For the worker's compensation insurance in PA, general contractors pay $265 per month or $3,175 per year. This business insurance is required by most states including PA for businesses and employee benefits to cover their medical fees and lost salaries due to occupation-related injuries.
Contractor's Tools and Equipment Insurance Costs for General Contractors
The median premium for general contractors insurance is about $15 per month or $170 per year for contractor's tools and equipment insurance. This business insurance policy covers the repair or replacement of lost, stolen, or broken devices and equipment.
The median cost per year: $170
Generic policy limit: $5,000
Professional Liability Insurance Costs for General Contractors
General contractors insurance median premium is a maximum of $45 per month or $520 annually for professional liability insurance in PA. This form is known as errors and omissions insurance to protect against client lawsuit claims on unsatisfactory, negligence, late, or unfinished work.
The median cost per year: $520
Policy limit: $300,000 per occurrence
Deductible: $2,500
The cost of liability insurance coverage for independent contractors is not fixed. It can depend on your:
Risk exposure
Business location
Experience
Policy information, i.e., your insurance coverage limits and deductible amount
Since there is no one-size-fits-all liability insurance for independent contractors, it is best to work with a local insurance company or ask for quotes from different insurers.
PA Contractor Insurance Requirements
The state law in Pennsylvania requires that every small business with employees must have workers' compensation insurance. This type of policy covers lost wages and medical bills in case an employee gets injured on the premises.
Tips On Shopping for a Contractor Insurance Policy
Do Your Research: You can start by researching the insurance packages. Depending on your personal needs, you can choose the policy that will cover the most common risks.
Know Your Risks: When you apply for a policy, the insurance company measures the information from the application against the "acceptable risk" generated by an underwriter. If you need help to decide how much insurance to purchase, it's always a good idea to discuss it with an experienced insurance agent.
Shop Around: While the cost of insurance varies, some providers specialize in specific types of businesses, and that includes independent contractors. When looking for the best insurance package, it's always recommended to shop around and check two or three options before making the final decision.
Do Independent Contractors Need Liability Insurance?
It is important that you have the right insurance for contractors. You can get sued immediately like other small business owners, and liability claims can be pricey. If you are not covered, and a client sues you, you will have to pay out of your pocket. And that may cost enough to close your business.
An independent contractor liability insurance is provided to help your business from specific liability claims.
Types of Contractor Insurance Coverage in PA
Owning a contracting business comes with risks. There are many possibilities for people to incur injuries or for properties to sustain damage. Physical injury or property damage happens in the work area, and the contractor will be receiving the end of a claim, where they have to pay out of their pocket. But this will not happen if they have the proper coverage that protects a business against certain liabilities.
1. Commercial General Liability Insurance
Commercial general liability coverage is one of the most common types of insurance for contractors. It covers claims for physical injury or property destruction that happen on a job site. Aside from covering the compensation, it also covers the legal expenses spent during litigation.
2. Workers' Compensation Insurance
Workers' compensation insurance cover employees from work-related accidents. Among the expenses covered by this business insurance are medical treatment, disability income, rehabilitation costs, and compensation to the families in case of death. Workers' compensation is a necessary protection against third-party suits filed by the employees or their families.
3. Contractors Pollution Insurance
Due to strict environmental laws, especially the risk of pollution, builders are vulnerable to getting sued for violation of environmental laws whenever there is a builders project. Contractors insurance protects builders from such claims.
4. Automobile Liability Insurance
The owner of the vehicles used to transport materials, equipment, and workers to the construction is liable to compensate the employee or their families in case of damage in the property, injuries, or death at the construction site that may have been caused by the vehicle. Auto liability insurance protects builders against such claims.
5. Commercial Auto Insurance
A commercial auto insurance policy coverage in PA protects vehicles owned by a general contracting company. It protects property damage and covers medical bills in case of an accident, vehicle theft, weather-incurred damage, and vandalism.
6. Builders Risk Insurance
Materials and equipment can be lost, stolen, or damaged in a particular construction project. Hence, builders' risk insurance is provided to protect the builders from these possible losses. It is provided along with general liability insurance coverage.
7. Roofers Insurance
Roofers insurance is a type of general liability insurance that protects roofing contractors in case of workplace accidents that could lead to physical injury of the workers or damage on the property. Since the roofer's work is way high above the ground, the risk of accidents is higher.
The Bottom Line
PA contractors insurance is important as it helps you pay for unexpected costs, including bills for injured employees, compensation for damaged property, and payments for legal fees.
Unsure about contractor insurance in PA, or need some help getting a quote for your business? Call us or fill out a quote request form and get all the information you need fast and for free!
Get A Quote And Get Coverage Today
Our Insurance agents are ready to help you out.