Log Truck Insurance. For Less.
"They're always going above and beyond."
We Make Log Truck Insurance Easier
The logging truck industry is one of the most dangerous freight hauling jobs in the transportation industry. If you're in the logging industry, whether you drive your own truck or lease it out to other companies, you are well aware of how dynamic the industry is.
With its dependence on favorable weather and terrain, and high maintenance costs on trucks and equipment, the logging industry, despite being one of the oldest thriving industries in the US, is also one of the most challenging ones when it comes to security and insurance. 
Instant Access to a live agent
Agents that fight for you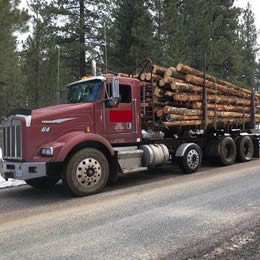 Log Truck Accidents: The Numbers
In 2015, the heavy material transport industry in the US, including log trucks, trailers and other heavy vehicles, recorded 4,836 fatal injuries. Among these, the logging industry showed the highest fatal injury rate of rates, at 132.7 fatal work injuries per 100,000 full-time equivalent workers. These and other statistics are enough to show how risky, even fatal the industry can be, even when precaution is taken.
Accident Statistics
Log truck Insurance is absolutely critical for the hauling industry. Here are some of the biggest risks associated with log trucking, which are an important factor in understanding log truck insurance.
Weight and Size of Logs
Logs can be anywhere between 20 to 100 feet in length, weighing over a ton each, sometimes. Not only does this make loading them onto trucks a laborious task, it results in log trucks being some of the heaviest freight vehicles to run on roads, going up to 80,000 pounds per truck, as stipulated by federal highways, and nearly 100,000 pounds on state highways.
Higher Risk of Truck Tipping
The increased weight of the log trucks significantly increases the risks of the truck tipping. This creates a potential risk of accidents, which could be hazardous for the driver, as well as for any vehicle that collides, not to mention damage to the logs loaded on the truck.
Unpredictable Weather and Terrain
Not only are log hauling trucks extremely heavy, they also navigate rough terrain to get logs from the forests to sawing mills. In addition, as a log hauler, you're pretty much always on the road, sometimes even in unfavorable, rough weather. The unpredictability of weather and terrain only makes the journey more difficult and adds to the risk of accidents caused by bad weather and uneven terrain.
Log Truck Accidents Cause More Damage
In comparison to the damage caused by a collision with a bus, van, or passenger car, the damage caused due to collision with a log truck can cause serious damage, both to life as well as the colliding vehicle. The likelihood of death or serious, complicated injuries to both parties is significantly higher in the case of log truck accidents.
Insurance Requirements
What Is Log Truck Insurance?
Log truck insurance helps log haulers by covering the liabilities and damages that might be incurred while loading and transporting millions of tons of logs across the country, across tricky terrain, highways, all the way to the sawmills. Just like you would insure your property for protection against disaster and damage, or get medical insurance to help with costs incurred if you have an accident, log truck insurance is a type of freight insurance which does the same for the logging industry, with some key differences.
The difference here comes from the fact that the logging industry, like other heavy transport industries, involves higher accident risks. Incidentally, the heavy material transport industry, of which log hauling is a part, has always been at high-risk for fatal injuries.
What Does Log Truck Insurance Cover?
Typically, an insurance policy for logging trucks covers the vehicle, the driver inside and any other motorists affected by accidental tipping and load losses. As mentioned above, log truck collisions can be far more damaging than other kinds of accidents, making it extremely important to focus on the lives of not just those inside the truck, but also those who might suffer because of the collision.
Unlike insurance for your car, or other passenger vehicles, the liabilities caused by physical damage, in the case of log trucks are just about limited to fire or chemicals, making it more important to focus on liabilities of others while writing a logging truck insurance policy. Policies also cover many possible damage scenarios that could occur in the unfortunate event of a logging truck accident, from the truck tipping over and colliding into another vehicle, or even logs rolling out and smashing vehicles in the process, to the tragedy of fatal injuries.
Insurance Costs
How Much Does Log Truck Insurance Cost?
Depending on whether you are a leased owner-operator or an owner, log truck insurance costs will vary for you.
For owner-operators who get their vehicle on a lease, the average annual expenditure on insurance can be anywhere between $3,000 and $5,000 a year.
If you are an owner-operator with your own authority, you can expect to pay around $9,000-$12,000 per truck every year. If you're planning to get a new authority, don't forget to factor in the fact that truck insurance policies have increased in the last few years, now priced between $12,000 and $16,000.
In any case, one of the factors that determine the cost of a log truck insurance is the value and age of your vehicle, with old trucks costing much lesser than new ones.
Insurance Discounts
Saving on Your Log Truck Insurance
Insurance is definitely one of the biggest fixed costs that log truckers have to incur, irrespective of whether they're leasing or not. However, with a careful comparison of quotes, and some precautions, you can turn this into a great opportunity to save money.
First of all, make sure you do your homework when it comes to truck insurance companies since their rates are constantly changing. The next thing to do is to ensure your truck is in top condition, and all regulations and records are maintained. An out of service violation immediately increases how much you spend on your truck insurance.
If you can, pay the full amount for the log truck insurance in one go, since this might mean saving anywhere between 5-10% on your policy cost. Also, make sure you get all the discounts you are entitled to, such as for having a deer guard or a written safety program.
Lastly, like any other policy, you can also lower your premium for log truck insurance by maintaining and raising your credit with your insurance provider.
At the end of the day, you want to make sure you get yourself a log truck insurance policy that gets you the most protection against damages and liabilities, and that too, from a reliable insurance company who understands the tricky bits associated with log truck insurance.
Get a Quote Now
Our expert insurance agents are ready to help you save on your Log Truck Insurance
Get a Tailored Quote. From a Real Agent