Keep Your Fleets Safe with the Best Commercial Fleet Insurance
Several businesses such as car rentals, taxi services, construction companies, and delivery services own many commercial vehicles such as vans, cars, trucks, and HGVs that they utilize for their business on a regular basis.
If the business owns only two or three cars, getting separate insurance for each vehicle might sound tolerable, but as the number of commercial vehicles increases, that process will become more arduous than it should be.
That is why insurance companies offer commercial fleet insurance. It can help keep your business safe while easing the load of paperwork you and your company have to deal with.
Here's what you should know about commercial auto fleet insurance.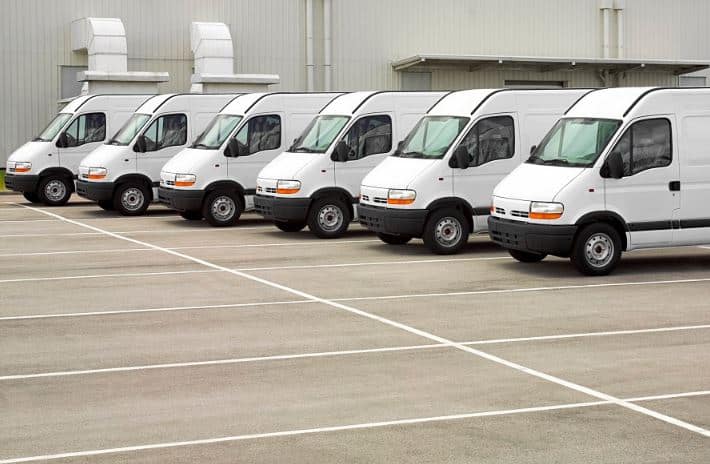 What is Fleet Insurance?
Business fleet insurance is a type of policy that covers multiple business vehicles or fleets at once. One of the key benefits of commercial fleet insurance is that it can save you from gathering dozens of car insurance policies. Instead, you only need to renew one policy, even if you have different drivers.
How Does Commercial Fleet Insurance Work?
Fleet vehicle insurance works by covering all the vehicles your business has under one policy. Depending on the size of your business, motor fleets can vary:
Small Fleets: Local trade businesses may have a few vehicles they use for work. Sometimes, small fleets are also referred to as mini fleets, and they opt for small fleet insurance.
Large Fleets: For example, some taxi companies have hundreds of vehicles, which means fleet insurance companies offer them large fleet insurance quotes.
Why Do I Need Fleet Insurance?
Commercial auto fleet insurance can provide liability insurance coverage for various vehicles owned by a business, such as cars, vans, trucks, SUVs, buses, and tractor-trailers. Commercial fleet insurance is a more affordable option for businesses than getting fleet vehicle insurance for each vehicle separately.
The vehicles which you insure under a fleet insurance policy do not require to be used for the same purpose. For instance, your commercial cars, as well as construction vehicles, can be insured under the same fleet policy.
How Many Vehicles Does it Take to be Considered a Fleet?
That depends on the fleet insurance company. Some companies may require five vehicles or more to comprise a fleet, while other insurers may allow you to buy commercial fleet insurance for just two cars. However, it has been found that it is most cost-effective when you have a minimum of three vehicles on the policy.
What is the Minimum Number of Vehicles in a Fleet?
Any company or person with more than one car has a fleet. Also, the company doesn't need to own the cars for them to be considered a fleet.
Fleet Vehicle Insurance Requirements
All fleet vehicles are required to have commercial auto fleet insurance by federal and state laws. Specifically, to run a fleet, you need to have liability insurance that covers bodily injuries, property damages, or a combination in case your drivers cause an accident.
Also, each state has its requirements regarding the minimum amount of liability coverage a business must-have. That said, it would probably be a good idea to research your state's requirements on fleet insurance to avoid fines and stay compliant.
Types of Fleet Insurance Coverage
Bodily Injury Liability Coverage: a type of fleet policy that pays for any injuries or death that occurred in an accident that someone from your business caused. Usually, this coverage includes legal defense.
Property Damage Liability Coverage: provides protection if one of the vehicles from your fleet damages another person's property.
Combined Single Limit (CSL) Coverage: a type of fleet policy that has the same amount of coverage for any occurrence, both bodily injuries and property damages.
Fleet insurance requirements are mostly focused on liability coverage. However, there are other types of fleet policies that can protect your business. When choosing the best business fleet insurance, you should consider looking for one that includes both liability and specialized coverage your fleet may need.
Here are some types of fleet insurance policies and services they offer:
Physical Damage Coverage: covers your vehicles from weather storms, theft, vandalism, and other events that may damage your fleet.
Uninsured Motorist Coverage: covers your assets if one of your vehicles is involved in an accident with an uninsured motorist. This type of fleet insurance can help you avoid paying out for repairs and medical expenses.
Collision Coverage: protects you from expensive repairs if your vehicle is hit by another car or object.
Commercial Fleet Insurance FAQs
How Many Cars Do You Need for Fleet Insurance?
Just a few years ago, you needed five cars to get liability coverage for your fleet of vehicles, but the number has recently been reduced, and just two business vehicles are now enough for you to acquire fleet auto insurance and guarantee your fleet safety. This change also helped small businesses that don't own many company vehicles.
What Does Fleet Insurance Not Cover?
Fleet insurance does not cover drivers. It is basically an auto insurance policy that covers property damage for your fleet of cars, and if your driver is involved in an accident in your insured business auto, the insurance will not cover the costs of their potential physical damage, bodily injury, or workers' compensation.
Can Individuals or Families Buy Fleet Insurance?
Yes, they can. If your family owns more than one car and you do not want to have separate car insurance for each and are looking for alternative insurance solutions, the answer is fleet insurance. Even if your family is the faulty party in an accident, family fleet insurance will cover the insured vehicles while also saving you time and money in comparison to its alternatives.
Do You Get no Claims on Fleet Insurance?
No, you don't. However, you will receive a confirmed fleet claims experience report that will help you keep the cost of your insurance premiums down in the future.
Can Anyone Drive With Fleet Insurance?
Anyone can drive with the permission of the company because most fleet policies are usually arranged on an "Any Authorised Driver" basis.
How Much Does Fleet Insurance Cost?
Fleet insurance for vehicles like SUVs costs around $1,000 per year per vehicle. On the other hand, commercial fleet insurance for larger vehicles costs around $1,500 or more per vehicle.
The motor fleet insurance cost depends on various factors. If there are more vehicles in the policy, the cost of the policy will be greater. Let's see what other factors affect the fleet insurance cost:
Value and Age of the Vehicle
Buying used or old vehicles can save money on insurance since they are cheaper to repair compared to new or custom vehicles.
Purpose of Use
Contractors such as locksmiths and plumbers who are into service-oriented jobs pay the least for insurance. Vehicles used for delivery purposes such as florist or pizza delivery vans usually fall within the mid-range insurance policy cost. On the other hand, vehicles are used for transporting merchandise (to other businesses), and people pay the most on the insurance cost.
Type of Vehicle for Your Commercial Fleets
Vans and SUVs cost more to insure compared to passenger cars. Trucks are categorized into three classes: light, medium, and heavy-duty.
Light Trucks: They weigh under 10,000 lb and include pickup trucks, flatbed trucks, and full-sized vans.
Medium Trucks: They weigh between 10,000-20,000 lb and include box trucks and refrigerated trucks that are mid-sized.
Heavy-Duty Trucks: They weigh over 20,000 lb, such as tractor-trailers, construction vehicles, and beverage trucks.
Commercial Fleets Policy Option
The more comprehensive the insurance policy, the greater the cost will be. However, taking a comprehensive commercial fleet policy is a good idea, as in the case of a serious accident, these policies can save you from tremendous loss.
How To Save Money On Fleet Insurance
It would help if you asked your fleet insurance broker to get you at least three fleet insurance quotes that you can compare before you determine the right one for you. This will also help you ensure that you are not paying too much for the policy.
Other ways to reduce costs of your fleet insurance policy without reducing the coverage or giving up the coverage are:
By ensuring that your fleet drivers have excellent driving records, you can get discounted rates.
You can save money by raising the deductible amount. However, while you will pay a lesser premium when you file a fleet insurance claim, you will pay a higher deductible amount. So, when you increase the deductible amount, make sure that the business can afford the deductible amount at the time of loss.
You can save on fleet insurance by combining policies. If you require various insurance policies apart from your fleet insurance, purchasing all of them via the same insurance provider can reduce overall premiums. You can also save money on your insurance policy by having anti-theft and safety equipment, maintaining safety standards, and being claims-free.
When you're looking for cheap fleet insurance, make sure to ask the insurance provider about the discounts and deals available that can lower the premium you pay.
Commercial Fleet Insurance Discounts
The best way to get discounts on your fleet insurance policy is to hire drivers who have a clean and safe driving record. Adding even a single driver with a poor track record can raise the insurance premium by over 10%, and when this amount is multiplied across all the vehicles in the fleet, it can be significantly large.
Your fleet insurance provider may offer discounts for having GPS equipment installed in the fleet vehicles. This is not only a great way to get a discount, but you can also keep track of your vehicles.
Buying your fleet insurance from the same company that has your other business and general liability policies can offer some great discounts. You can also try and add your family's personal policies into the bundle for more discounts.
Getting fleet insurance for your business can be complex, and without the help of experts, you can find it quite challenging to get the best policy that will offer you complete coverage and protection. Our fleet insurance specialists can guide you in understanding fleet insurance and the type of insurance that is best suited for your specific business needs.
How Many Vehicles Do You Need to Get Fleet Insurance?
The law does not prevent you from getting fleet insurance even if you have only two vehicles. However, it would not be the best idea from a cost-effectiveness perspective. Because of this point, many companies will ask you to have more than five vehicles if you want to get commercial fleet insurance.
However, in some other cases, the number gets reduced to 2, which is convenient for small and medium business owners. You must also consider that a commercial fleet insurance package has been designed for the best effects in coverage and features. So, instead of saving as much money as possible, you should ensure that the package offers inclusive protection to all the vehicles in the fleet.
On the other hand, you can save money on commercial fleet insurance via other aspects such as your drivers' skills and anti-theft gadgets.
Are you still confused about fleet insurance, or do you need some help getting a quote for your business? Contact us today and get all the information you need fast and for free! 
Get matched with a provider that fits your needs today.