Commercial Truck Insurance. For Less.
"They're always going above and beyond."
We Make Commercial Truck Insurance Easier
There's a reason our clients consistently send their friends to us Commercial Truck Insurance, they know we'll get them the best trucking insurance deals and amazing service along with it.
Instant Access to a live agent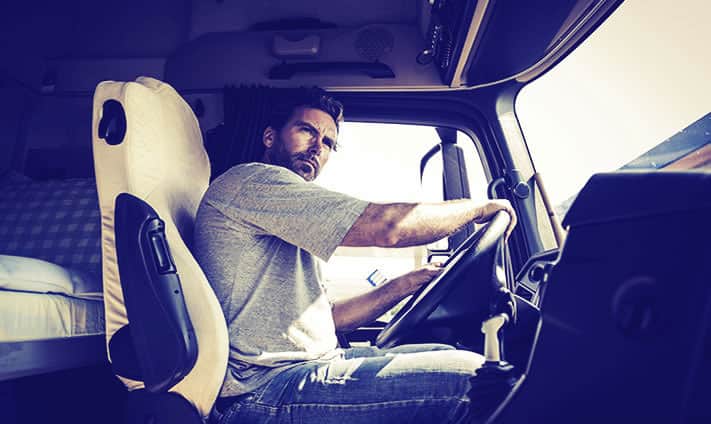 Insurance for your Trucks
Many people who have a business, and use a commercial truck for it on a regular basis, have the wrong idea of how they should insure that truck. Even if the truck is a passenger truck, the business owner should look to a truck insurance policy rather than a personal auto insurance policy. The most important reason is for the limit of liability coverage available with truck insurance versus personal auto insurance.
Most personal auto insurance policies will offer a maximum limit of $300,000 to $500,000 which falls short of offering you the best protection. A truck insurance policy will normally offer limits of $1 million to $2 million dollars which is what you will need if you are in an at-fault accident.
Commercial Truck Insurance FAQ's
Any Vehicle Type
Commercial Insurance for any vehicle
From passenger vehicle to cargo van, to semi truck; commercial truck insurance will accept any type of truck and for any amount of coverage. Contractors who use a standard box truck  are especially warned to get that vehicle off the family personal auto policy and on to a commercial truck policy.
In the event of an at-fault accident, the minute the other driver discovers your commercial truck is used for business, you can expect their neck to hurt, their back to hurt and the letters from the attorney to arrive via certified mail. Also, your non-commercial insurance company may give you a hard time about an accident in a personal vehicle being used for undeclared business use.
No Limit to Number of Vehicles
Cover all your Vehicles with Commercial Trucking Insurance
Under the commercial truck policy there are not limitations to the number of vehicles you can insure like there are with the personal auto policy. With most companies, five units or less are considered non-fleet and six units are more are considered fleet. The pricing is structured somewhat more favorably once you are considered a fleet client.
Medical Payments
Insurance covers all medical payments
This coverage will pay for reasonable expenses for medical and funeral expenses to the business, employees and passengers in your truck no matter who is at-fault. Since liability does not have to be established, the insurance company will pay this benefit more quickly than any other coverage.
Uninsured/Underinsured Motorist Limits
Commercial Trucking Insurance covers both under and uninsured motorists
With commercial truck insurance, the company will offer much higher limits on uninsured/underinsured coverage. This coverage protects the vehicle driver if she is injured due to a not at-fault accident and the at-fault driver does not carry sufficient liability coverage to pay for injuries or is uninsured. This coverage will also respond to claims for pain and suffering which is not covered anywhere else in the policy or by the offending driver's policy.
Non-Owned Auto Coverage
Commercial Trucking Insurance covers non owned vehicles
This very important endorsement protects the business in the event that an employee is using his personal auto for business purposes. Suppose your employee makes a trip on behalf of the business to pickup office supplies and is in an at-fault accident. The businesses liability coverage extends to that employee's vehicle while he is driving his personal car on behalf of the company.
Hired Auto Liability
This endorsement to your policy will extend your liability coverage to a truck you rent or lease. This is always necessary as the rental company will require the increased limits for the vehicle the rent to you or require you to purchase the coverage from them at a much higher price.
Hired Auto Physical Damage
Similar to hired auto liability, this coverage provides coverage for physical damage to a truck you rent or lease on behalf of the company. This endorsement is always much cheaper than buying the coverage through the rental company.
Stated Value versus Actual Cash Value
Many companies will allow the policyholder to insure the truck based on "stated value" rather than "actual cash value" which can save premium dollars if the company is able to purchase vehicles for much less than the market value.
In any case, if you own a company, the vehicles owned and used by the company should be insured under a commercial truck policy rather than the owner's personal auto policy to make certain that sufficient limits are available to the business.
When you go for a commercial truck insurance policy, always ensure that you are properly informed about the regulations, provisions and discounts that you can avail as a business owner. Not only does it save you money in the short as well as the long term, but also offers you peace of mind that any losses you might incur in the business are compensated for.
Get the Coverages You Need
Knowing what commercial trucking insurance coverages you absolutely require and what you can do away with or what would only be an added bonus in special circumstances can save you from spending excessively on your truck insurance. Ask for your policy to be customized for your needs particularly and try to get maximum benefits for your business.
The following liabilities are necessary for most trucking companies:
Liability Insurance: All owner operators with authority are required to have coverage for property damage as well as for bodily harm up to a minimum of $750,000.
Cargo Insurance:

All shippers require their drivers and owners to insure the fleet of vehicles used for shipments. It means that without this coverage you will not be able to find work.
Physical Damage Insurance:

Costing about 2%-3% of your vehicle's value, this coverage pays for damage to your trailer/rig.
Although it can be a tedious task to go over your insurance policy multiple times, reading the fine print and negotiating the best prices for the coverages you need, it will ensure that your business runs smoothly in the long run.
Get a Quote Now
Our expert insurance agents are ready to help you save on your Commercial Truck Insurance
"I was in need for truck insurance and did some shopping around. Spoke to a couple different agents with other insurance companies and found the guys at East Insurance Group to be the most helpful, friendly, and most of all, knowledgeable. "
Mark | Baltimore, MD
Tailored Insurance For Your Business
We're a team of Fast, Dedicated and Professional insurance agents who helps keep your business safe with better insurance coverage for less.