Truck Insurance in NJ: What You Need to Know
Commercial truck insurance in New Jersey is required, but each business will require its own specific coverage. The compulsory types of coverage are primary liability insurance. Whether you are a leased independent contractor, an independent operator with your own authority, or a motor carrier, you would require bobtail coverage, cargo coverage, physical damages insurance, and non-trucking liability, among others.
Which truck insurance in NJ is right for you? 
Here's everything you need to know about NJ commercial truck insurance. 
If you have questions or want to check the commercial auto insurance quotes, you can contact us today and get all the information you need fast and free!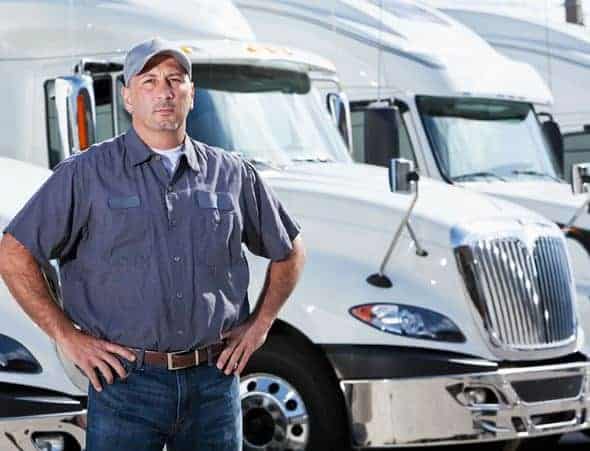 What is Truck Insurance in NJ?
New Jersey trucking insurance is a group of specific auto insurance policies designed to cover the specific needs of the trucking business. Typically, basic commercial truck policies will cover your truck in case of an accident. 
Who Needs Truck Insurance in New Jersey?
If you own a New Jersey business and drive trucks for business purposes, you must have NJ commercial truck insurance. Here's a quick list that includes everyone who needs trucking insurance in NJ:
Anyone who transports goods or people for money 
Anyone who conducts a service using a vehicle
Anyone who needs higher limits of liability because of the nature of your work
Anyone who hauls tools or equipment or tows a trailer that is used to conduct a business
Anyone who has employees who operate the vehicles for business purposes
Why Do I Need Commercial Truck Insurance in NJ?
In New Jersey, all vehicles are required to have auto liability insurance. Furthermore, your business could face legal and financial risks if you don't have it.
Let's say one of your business vehicles is at fault in an accident. You could be facing an expensive lawsuit or settlement, or you would probably have to pay for damages to the other vehicle or property, not to mention lost wages, medical costs, and other related costs. 
Finally, driving without insurance could result in penalties and higher prices for new policies. That's why it's a good idea to consider having truck insurance in NJ. 
For more info, it would also be best to be up to date with the New Jersey Department of Transportation regulations, along with news from the New Jersey Department of Banking and Insurance. Also, Federal Motor Safety Administration (FMCSA) specifies its own set of regulations for commercial trucking.
How Much Does Commercial Auto Insurance Cost in NJ?
According to New Jersey laws, it is mandatory to have minimum liability coverage of $25,000. This amount may vary if the hauled freight is hazardous and can go up to $5,000,000. For a commodity like oil, it would rise to $1,000,000. Liability insurance for hauling household goods is slightly lower at $300,000.
The cost of truck insurance in NJ depends on several factors:
Your radius of operation and the other states you transport your shipment through: If you operate locally within NJ, you could acquire an intrastate only US Department of Transportations (USDOT) unique number. Certain forms need to be filed by you and processed, per the rules of USDOT, to process your authority, including Form MCS-95, Form E, Form H, and the BMC-96.
The type of vehicle you own and the freight hauled: For example, it could be a flatbed truck. You may be into horse hauling, hazardous material hauling, intermodal trucking, refrigerated trucking, and others.
Your driving history: Business car insurance quotes depend on all drivers' history who are accessing your business vehicles. That said, drivers with accidents or violations on their driving record will usually cause rates to increase. 
Coverage needs of the business owner: The more coverage you need, the more expensive your commercial auto insurance will increase. For example, a $1 million liability policy will have a significantly higher premium than a policy with state minimum liability limits. 
How to Lower the Cost of Truck Insurance in New Jersey?
There are several ways to lower the price of your insurance premium. Follow these tips to get cheap commercial truck insurance in NJ:
Hire experienced drivers
Hire drivers with clean driving records
Map out your trucking routes
Verify your driver's employment history
Use newer trucks 
What Does Truck Insurance in NJ Cover?
While liability insurance is mandatory in NJ, you may require other coverage plans to run a secure and successful commercial trucking operation in NJ. These are the types of commercial car insurance you can purchase in New Jersey:
Primary Liability Insurance
It is compulsory for all commercial trucking operations before they hit the road. It compensates for bodily injury to other people and property damages that others may incur when you are at fault in an accident. You may be fined and penalized heavily if you do not acquire this coverage.
General Liability Insurance
General Liability Insurance covers risks when you are not on the road, for instance, in your head office. Sometimes, it may prove difficult to get this coverage when you haul hazardous material.
Physical Damage Insurance
It covers you for collisions on the road that may cause damage to your vehicle. The other part of this coverage includes comprehensive coverage valid for all circumstances except collisions, including fire, theft, vandalism, or damage due to animals and weather.
Bobtail Insurance and Non-Trucking Liability Insurance
Bobtail insurance protects your truck when it is not on the road and the trailer is disconnected from the truck. While the truck is not being used to transport a shipment, you need to be covered for property damages or injuries caused while using the truck for personal purposes.
Cargo Insurance
Cargo insurance is basic coverage for the freight being hauled in your truck. The minimum amount for this would vary according to the nature of the freight being hauled. For instance, hazardous material might involve higher insurance rates.
Trailer Interchange Insurance
This type of commercial vehicle insurance covers you for any damages when a load is being transferred, and the trailer is not attached to the owner's truck. It compensates for damage caused to a non-owned trailer you may be using while under a trailer interchange agreement.
Uninsured Motorist
This is another crucial coverage for a semi-truck insurance policy. It compensates for another vehicle that may be damaged due to your fault in an accident and does not have insurance or hold adequate insurance to cover the expenses.
Workers' Compensation
Trucking companies need workers' compensation to cover their employees as a mandatory requirement.
Umbrella Insurance
It covers the gaps between your other insurance policies. Also known as excess liability insurance, it compensates you for lawsuits that go beyond your existing coverage. You must consider carefully setting your minimum coverage, deciding on the payment installment patterns, and selecting additional coverage.
New Jersey Truck Insurance Filings
Once you file for authority, East Insurance Group can help you take care of New Jersey and federal insurance filings, including:
What if I Use My Personal Vehicle for Work?
Suppose you are using your vehicle for work. In that case, you should consider having commercial insurance to avoid financial risks, including paying for legal claims, covering medical bills, and property damages to the third party. 
Finally, commercial auto insurance isn't just for big companies. If you own a small business, auto insurance is something you should consider as it covers you financially in case something unpredictable happens. 
At East Insurance Group, we offer you the services of our leading insurance experts in all major cities in New Jersey, including Newark, Jersey City, Elizabeth, Edison, Camden, Clifton, and others. You have the benefit of having a dedicated insurance specialist who would carefully assist you in understanding, analyzing, considering, and selecting the repertoire of insurance policies that suit your requirements best. We understand your aspirations as a local or regional commercial trucker and present you with the most affordable options that help you grow your business, operate with peace of mind, and guarantee being covered at all times.
Are you still confused about truck insurance in NJ, or do you need some help getting a quote for your business? Contact us today and get all the information you need fast and free! 
More Insurances:
Get matched with a provider that fits your needs today.