Workers Comp for Trucking Companies. For Less.
"They're always going above and beyond."
We Make Workers Comp for Trucking Companies Easier
The trucking industry forms a major part of the American economy, used to transport goods across states, be it for manufacturing, assembling or distribution. However, given the magnitude of the industry and its presence on a nationwide basis, the industry is prone to a lot of risks, due to which various specifically designed insurance policies have cropped up with regard to this industry.
Instant Access to a live agent
Agents that fight for you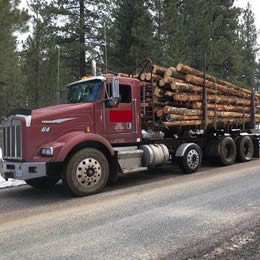 What Is Workers' Compensation for Truckers?
Workers' compensation for truckers or "trucking workers' compensation" is a mandatory insurance policy that many trucking companies or operators are required to have in place for the welfare of their employees. This insurance policy covers some of the following:
Lost income/wages
Medical expenses
Rehabilitation costs
Death benefits
The Need for Trucking Workers' Compensation
Workers' compensation for truckers is a necessity for the business owner as well as the employees of the business. Like in any other industry, truckers are prone to injuries and maybe even more than employees in other industries due to the strenuous nature of the job. Trucking involves long hours of sitting with brief but labor-intensive breaks where the drivers are generally loading or unloading heavy goods.
Most drivers are also paid only while under dispatch and the number of hours and work can vary, sometimes extending into the night or early hours of the morning, resulting in irregular sleep patterns. Due to all of this, truckers lead very sedentary lifestyles with a lack of fitness and exercise.
Additionally, the following types of injuries can also occur to drivers:
Accidents (either on-road or while loading/unloading)
Back injuries from heavy-load lifting
Slips and falls
Musculoskeletal disorders
Injuries from the load falling on the driver
Therefore, medical expenses play a huge part in the trucking industry and if you as a business owner had to foot all these bills out of pocket, you'd be facing bankruptcy sooner than you can say the word! Luckily, workers' compensation for truckers covers employees injuries while they work for you.
Lastly, workers' compensation is a requirement by law in almost every American state, ensuring that employers cover partly or entirely the medical expenses of injuries and even occupational diseases of their employees. Not having a workers' compensation policy in place could result in fines and penalties.
Insurance Requirements
What Is Log Truck Insurance?
Log truck insurance helps log haulers by covering the liabilities and damages that might be incurred while loading and transporting millions of tons of logs across the country, across tricky terrain, highways, all the way to the sawmills. Just like you would insure your property for protection against disaster and damage, or get medical insurance to help with costs incurred if you have an accident, log truck insurance is a type of freight insurance which does the same for the logging industry, with some key differences.
The difference here comes from the fact that the logging industry, like other heavy transport industries, involves higher accident risks. Incidentally, the heavy material transport industry, of which log hauling is a part, has always been at high-risk for fatal injuries.
What Does Log Truck Insurance Cover?
Typically, an insurance policy for logging trucks covers the vehicle, the driver inside and any other motorists affected by accidental tipping and load losses. As mentioned above, log truck collisions can be far more damaging than other kinds of accidents, making it extremely important to focus on the lives of not just those inside the truck, but also those who might suffer because of the collision.
Unlike insurance for your car, or other passenger vehicles, the liabilities caused by physical damage, in the case of log trucks are just about limited to fire or chemicals, making it more important to focus on liabilities of others while writing a logging truck insurance policy. Policies also cover many possible damage scenarios that could occur in the unfortunate event of a logging truck accident, from the truck tipping over and colliding into another vehicle, or even logs rolling out and smashing vehicles in the process, to the tragedy of fatal injuries.
How Much Does Workers' Compensation Cost?
The cost of your workers' compensation policy could vary based on a state-to-state difference as well as the number of employees you need to cover and the types of coverage you require.
Saving On the Cost of Workers' Compensation
Workers' compensation policies could end up costing you quite a bit. Luckily, there are ways to lower the amount of premium you end up paying, such as:
Shopping around and getting multiple quotes
Having a good insurance agent to help you lower your premium
Make use of discounts
Increase your deductible
Reduce accidents
Implement a policy on safety measures at the workplace
Treating drivers as independent contractors
Conduct background checks on drivers to check for any history of drug usage/addiction to alcohol
Of these, reducing accidents is a simple yet effective way to bring down your risk, and therefore, your premium. Put drivers through programs on safe driving to ensure that they understand the need to drive safely. Simple things like the right footwear while driving can also help reduce accidents.
Another measure that business owners take to reduce their premium cost is to treat drivers, even employees, as independent contractors. Doing this makes the employees responsible for their own policies, instead letting them be responsible for their own workers' compensation, safety and injuries. However, doing so might bring you into the bad books of the law, as the Internal Revenue Service (IRS) can treat these employees as just that and not as independent contractors or operators, resulting in a legal mess.
Workers' compensation is a necessity in every industry. Workers and employees need to be protected from any circumstances that could injure or harm them, not just in the trucking industry but in all industries that work. However, with regard to the trucking industry, workers' compensation is even more necessary than other industries, given the high rate of injuries, occupational hazards and unhealthy lifestyles that truckers lead.
Given the magnitude of most businesses, truckers compensation can be expensive. However, there are ways to lower the amount of premium that you as an employer pay. Shop around for quotes, look at multiple agents before you settle on one. Also, simple yet important things like safety measures, training your employees in safety procedures, increasing your deductible, having the right insurance agent and paying your premium in one shot are all effective ways of budgeting your workers' compensation.
Get a Quote Now
Our expert insurance agents are ready to help you save on your Workers Comp for Trucking Companies
Tailored Insurance For Your Business
We're a team of Fast, Dedicated and Professional insurance agents who helps keep your business safe with better insurance coverage for less.
Insurance For Your Car Hauling Business
""I needed to call in a claim, thanks to their policies I was able to get my entire truck paid in full. My old company would of given me only half the amount needed."
Keep Your Auto Haulers Safe with the Best Coverage
There's a reason our clients consistently send their friends to us for their insurance, they know we'll work to get their auto haulers the best coverage possible.
Instant Access to a live agent
Better Coverage for less
5 Star Service
Keep Your Auto Haulers Safe with the Best Coverage

A car carrier is a large investment that can pay off well over time. Car carriers are expensive, and if damaged in an auto accident the repairs can really put a dent in your bottom line. When you own a car hauling business such as transport companies, car dealerships or repossession company to name a few, you need to purchase various types of insurance related to vehicle transport. And it's not just your truck you have to worry about. If anything were to happen to any of the cars or truck you are hauling it would come out of your paycheck.
Auto Hauler Insurance FAQ's
<strong>01</strong>Car Hauler Risks
Damaging new cars
Being that one of the most common hauled vehicles are new cars, they pose a big liability risk. Should there be any damage to a brand new car there is a huge differential between the cost to repair damage to a new vehicle versus the reduced amount it must be sold for after it is fixed. If the roof of a car is damaged during transport, the repair may cost only $6000, however, the car value may have gone own by $10,000. If this happens to several cars on a single haul, this can quickly add up to tens of thousands of dollars.
Theft
Brand new cars are a major target for thieves, who may attempt to steal entire vehicles or raid them for parts. This can make leaving vehicles unattended problematic and many insurance companies will not cover auto theft from a truck that has been left unattended, even for a short time period. You need to make sure that your policy is properly covered for theft. many insurance policies won't cover theft if the vehicle was left unattended, make sure you have that covered.
<strong>02</strong> What does auto hauler coverage Includes?
Liability insurance – 
Liability insurance is required by law in most states and many states will not issue your truck permits and licenses without this basic level of protection. Liability insurance is there to pay for injuries and damages inflicted on other people when you are at fault in an auto accident. This coverage includes bodily Injury and property damages.
Comprehensive Physical Damage Protection – Comprehensive damage protection provides coverage for almost all conceivable hazard and perils your truck might encounter aside from collision and rollover events. Comprehensive protection covers you for theft for example, and pays for the cost of repairs if your truck is damaged in a storm. If vandals spray paint the side or slash the tires, comprehensive coverage pays for those repairs too.
Property Damage – This coverage will help pay the damages that happened to the other vehicle.  The property damages portion of your liability coverage pays the repair bills and can pay for the replacement of property that is destroyed.
Cargo Coverage – The cargo that you transport on your car carrier is quite valuable. Protect it from loss with cargo insurance coverage.
Uninsured motorist – Uninsured or underinsured motorist coverage protects you from losses that are caused if you get into an accident where the other driver doesn't have insurance or doesn't have enough insurance. If the driver at fault does carry liability insurance but it is not enough to pay for all of the damages and injuries inflicted by the accident, your uninsured motorist policy will make up the differences.
Bodily Injury – Bodily injury coverage pays for physical injuries and harm that is inflicted as a result of an auto accident. For example if you were driving your car carrier and bumped into another car, injuring the people in the other vehicle  your bodily injury coverage will pay the medical bills that arise for the people injured in the other vehicles. This includes standard medical bills such as hospital transport and emergency room care. It also includes physician's bills, prescription medications and rehabilitative care as well as  losses in wages if they have to take time off work for recovery.
Collision Damage Protection – This coverage is designed to take care of your truck if your car carrier turned too sharply into a truck stop and scraped the side of a building and gets damaged, or if it collided with another object. Collision damage protection will pay for the cost of the repairs.
Unattended Truck Coverage – Truck drivers are required by law to rest regularly when traveling long distances. Leaving the truck unattended opens it up to risk of damage or theft. Protect yourself from this risk with unattended truck coverage.
<strong>03</strong> How Much Does Car Hauler Coverage Cost?
As with any other vehicle insurance, the cost will depend on a number of factors. Generally speaking, it's somewhat expensive to insure these vehicles due to the added liability of multiple cars, heavier weight, and distance traveled. Costs can range from $800 to $1400 per month.
There are many factors that go into determining your insurance rate:
The size and type of car hauler you have
The nature of your business
How many vehicles you may be hauling regularly
The type of vehicles you will be hauling (Are they damaged? New? Used?)
Whether you're hauling locally or across state lines
The location of your business
The number of car haulers you're insuring
<strong>04</strong> How Much Insurance Does My Freightliner Need?
Keep in mind that all of the commercial truck must have a liability insurance policy which covers mainly damages caused to other individuals by your driver or you and also injuries that may occur during the incident. Liabilities are a must pay in every single state, trucks which always cross the state line should ensure that they have met a federal mandate payment.
The liability insurance minimum payment solely depends on the trucks weight class and the materials being ferried. For instance, a class A truck, yes a semi truck with a weight of about 10,000 pound and ferrying hazardous goods should ensure that it makes a minimum liability insurance cover of $ 1 million as opposed to a truck below the 10,000 pound mark but it carries normal commodities should also pay a minimum insurance payment of $300,000.
Trucks ferrying explosive commodities should make a payment of $5 million in the liability coverage policy, regardless of their weight.Apart from the primary liability coverage that is required by the law.
Get a Quote Now
Our expert insurance agents are ready to help you save on your auto insurance
"I was in need for car insurance and did some shopping around. Spoke to a couple different agents with other insurance companies and found the guys at East Insurance Group to be the most helpful, friendly, and most of all, knowledgeable. "
Mark | Baltimore, MD
Mike stuck with me through thick and thin, even when I was struggling to make payments on time. It wasn't like dealing with a faceless and heartless agent. His customer service is above par and his fidelity to his clients goes beyond the hours of 9 to 5.
Stacy | Towson, MD
Tailored Insurance For Your Business
We're a team of Fast, Dedicated and Professional insurance agents who helps keep your business safe with better insurance coverage for less.